The Detroit Sportsmen's Congress has two Proshops, one located on the first floor of the Pistol/Shotgun building on Dequindre Road and a second down in our Sporting Clays range building in Delaney Park.
Both Proshops stock a wide range of shooting accessories, including cleaning supplies, gun cases, holsters, magazines, and eye and ear protection.
The Proshop manager also can special order firearms from all major gun manufacturers, including a wide variety of competition rifles, handguns, and shotguns as well as all the most popular self-defense and hunting firearms.
Of course, if you are looking to feed your favorite 12ga shotgun or a new 9mm handgun or that 5.56 competition Service Rifle, the DSC Proshop has the ammunition and reloading components you need most.
The DSC stocks a WIDE variety of powders, primers, projectiles, brass, wads, hulls, and lead shot from all your favorite manufacturers including Berger, Sierra, Hornady, Remington, Winchester, Alliant, Hogden, Federal, CCI, Eagle, IMR, and many, many, more.
Thanks to our direct buying relationships with major suppliers and manufacturers we offer MEMBER ONLY pricing for almost all items in the Proshop.
We also have a wide variety of DSC logo gear from all your favorite venues including polo shirts, hoodies, t-shirts, hats, vests, and other classic DSC swag.
To place an order or ask any questions about inventory or other items offered for sale, please contact the DSC Proshop at (586) 739-3502.
Monday – CLOSED
Tuesday – CLOSED
Wednesday – 10 a.m. – 6 p.m.
Thursday – 10 a.m. – 6 p.m.
Friday- CLOSED
Saturday – 10 a.m. – 4 p.m.
Sunday – 10 a.m. – 4 p.m.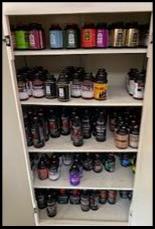 The Proshop accepts most forms of payment including Cash, Personal/Business Checks, Master Card or Visa.
We love our customers and always welcome your suggestions for products and services offered in the Proshop.