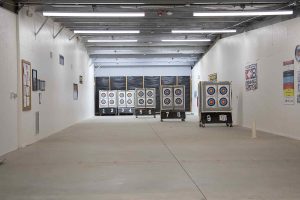 The Detroit Sportsmen's Congress has Archery-based activities to fit everyone's interest. Archery has been a part of DSC since 1948 and the committee is proud to be an expanding group with new responsibilities and functions as we move toward our 80th year as a full-function shooting sports club.
Whether your interests lay in target shooting, competition, or practice for archery hunting, we have something for you.
Archery Facilities:
30-target outdoor 3D animal range. Varying shot distances and elevations. (Target points only!)
A six-lane outdoor practice range with 20 yd. and 30 yd. shooting lines.
A ten-lane indoor practice range. Used during J.O.A.D. indoor practice, Archery Instruction, and league shooting.  Available for Open Shooting by schedule or during inclement weather.
Broadhead practice range. Fifteen targets available for practice "in league" only. 
Outdoor Professional Archery (PA) range. Used for J.O.A.D. archery (Outdoor tournament) and distance practice.
Activities:
Indoor Education in Archery: Ten-week class to establish proper form, technique and safe use of archery equipment.  (January – March)
Outdoor 3D competition league.  An eight-week league with a handicap format to ensure that every team has a chance to "Win It".  Banquet and awards for the winning team with prizes for all.  (April – June)
Bowhunter Education Class: Held annually to allow for seasons and ease of participation.  A one-day class.
Open 3D shooting: Outdoor course is open to members and the public from May until the last regular weekend before the start of Archery Deer Season.  9:00 am to 3:00 pm most Saturdays and Sundays.
Fall Outdoor League: Shoot target-point 3D archery or broadheads on the animal silhouette course. An eight-week league with a fall banquet for all teams.  (No trophies/ July – September)
J.O.A.D. Archery: Instruction and practice in target archery to introduce and educate those interested in competitive tournament archery.  Two eight-week sessions. (May – September)
Annual "Toys for Tots" Archery 3D Shoot: Held the first weekend in December, bring a new, unwrapped toy for a needy child and shoot the 30-target 3D course for $1.00.
Please check our Coming Events page for scheduled days and times of all events

.

Detroit Sportsmen's Congress is affiliated with: Michigan Bow Hunters Association, USA Archery, Michigan Archery Association & The Tri-County Archery Association
Archery Rates
Indoor
Practice
Outdoor 3D
(30 Target)
Adult Regular Member
$7.00/hr
$7.00 p/r*
Adult "Work Hours" Member
$5.00/hr
$5.00 p/r*
Junior Member
$5.00/hr
$5.00 p/r*
Student Member
$7.00/hr
$7.00 p/r*
Adult Guest
$10.00/hr
$10.00 p/r*
Junior Guest
$7.00/hr
$7.00 p/r*
MBHA Guest
$9.00/hr
$9.00 p/r*
MBHA Junior Guest
$6.00/hr
$6.00 p/r*
"Junior" classification effective until the 18th birthday.
Student Members are children of DSC Members attending college with an independent membership. (18 – 21 years old.)
Members of the Michigan Bow Hunters Association (MBHA) and their immediate family receive a $1.00 discount with proof of current year membership.
PA & Indoor Range "Open Shooting" is calculated on an hourly rate.
*p/r is a "Per Round" fee (30-Target Round)
**DSC Life Members are eligible for the "Work Hours" rate.